Beiben 6x4 kiepwagen, dumptruck
De dumptruck wordt ook kippers, kippers, dumpers, etc. genoemd. De dumptruck bestaat uit een dumptruckchassis, een kist, een hydraulisch systeem, een besturingssysteem enz. Het kan worden gebruikt voor het transport van zand, grind, klei, stenen, mijnbouw, enz. De bovenbouw van een kiepwagen die te koop is, is afhankelijk van de goederen die u vervoert.
Producteigenschappen:
1, oliebesparing, veiligheid, rijcomfort, betrouwbaarheid, lage toepassingskosten.
2, motor, WD615.50, 290HP of 340HP / 380HP.
3, T-type pr Front kipper. Kipperbak: vierkante vorm of U-vorm.
4, Kipperlichaam: 15cbm aan 20cbm, op zwaar werk berekend ladingscapaciteit: 30ton aan 40 ton
Vloer dikte: 4 mm tot 8 mm, zijwand whickness: 3 mm tot 6 mm voor anders gebruik door klanten
5, hydraulisch systeem: merk HYVA of Chinees beroemd merk.
Beiben 6x4 kiepwagen, dumptruck
De belangrijkste parameter van de Beiben 6x4 kipwagen, kiepwagen
Drive type

Beiben 6X4 RHD 290HP 18cbm Front tipping

truckdumpTipper/Dump Truck

Steering wheel position

Right hand drive

Work conditions

Standard type

Cab

NG80B,no sleeper, With Air Conditioner

Front Axle Load Capacity

7.5Ton

Rear Axle

BEIBEN DOUBLE REDUCTION DRIVEING AXLE

dimension

Wheelbase(mm)

3450+1450

Overall dimensions(L*W*H)

9672*2495*3410

Mass parameter

Chassis kerb weight(kg)

12420

GVW(kg)

32000


Complete vehicle

performance

Maximum speed(km/h)

75

Maximum climbing capacity (%)

30






Engine

Model

WD615.50 290HP,EURO II

Displacement(L)

9.726

Max power(ps/rpm)

290(2200)

Max torque (Nm/rpm)

1250(1200-1500)

Emission

EURO II

Transmission

9JS150

Tire

12.00R20 all steel radial tire

Steering Gear

ZF8098

Fuel tank

400L Iron
Dump lichaam
Thickness

Side

4mm in high tensile strength steel Q345/B

Front

4mm in high tensile strength steel Q345/B

Bottom

8mm in high tensile strength steel Q345/B

Dump body Size

(L x W x H)

5200mm x 2300mm x 1500mm

Tipping hydraulics

Tipping type

middle tipping type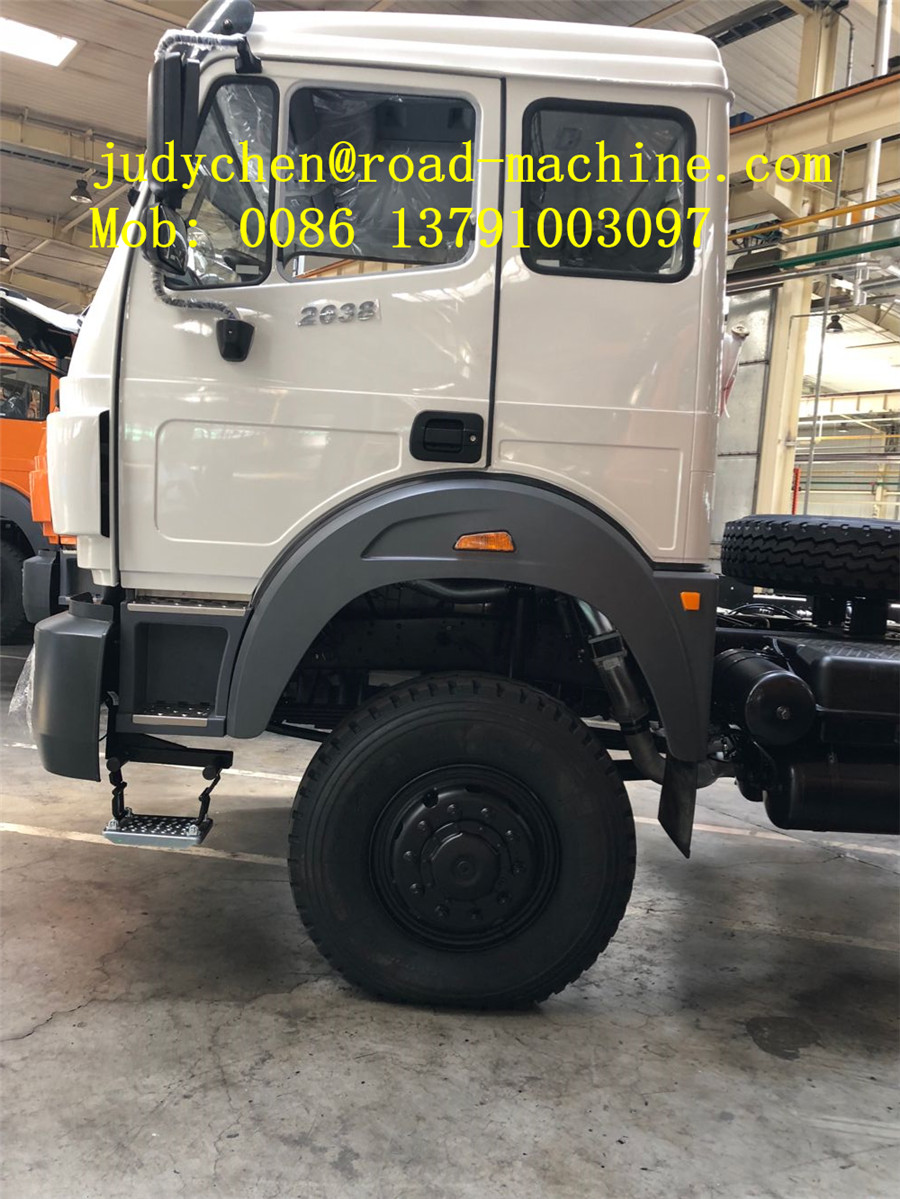 Product Categorie : Bouwvoertuigen > Auto dumpen